Handicap Accessible Bathtubs & Showers in Littleton, CO
Independent Home Products, LLC custom manufactures handicap accessible bathtubs in Littleton Colorado and handicap accessible showers to meet the needs of your specific environment. With many models and styles, as well as a wide variety of accessories to choose from, Independent Home Products, LLC makes it simple to customize your handicap accessible bathtub or shower to best meet your individual needs.
No other Littleton handicap bathtub or handicap shower company offers the extensive features and customized service that Independent Home Products, LLC can. Simply call (888) 353-1314 for a free in-home consultation and quote on installing a handicap accessible tub or shower in your Littleton home.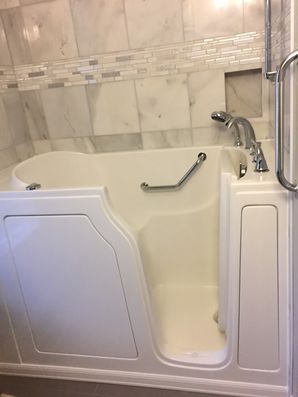 Benefits of a Littleton Handicap Accessible Shower or Tub Installation
When you call (888) 353-1314 for an in-home consultation, our trusted installer will arrive at no charge, take all necessary measurements and answer all of your questions about installing an accessible bathtub in Littleton. Below are some of the many benefits of calling Independent Home Products, LLC to make your standard bathroom more accessible with a walk-in tub or shower:
• Low to no entrance thresholds mean no trips & falls
• Non-skid flooring prevents slips & falls
• Well placed grab bars will make bathing & showering safe
• Bath & Shower seats offer comfort while bathing
• Customizable to meet your needs
Freedom & Safety from a Handicap Accessible Bathtub in Littleton
Independent Home Products, LLC's installation of a handicap accessible bathtub or handicap accessible shower in your Littleton home will allow you the independence to bathe and shower in comfort and safety. Our handicap tubs and showers are specifically designed to transform a standard tub or shower into a beautiful and safe handicap accessible space. As the trusted leader Littleton handicap accessible bathtub design and installation since 2007, call Independent Home Products, LLC today at (888) 353-1314 for a free in-home estimate.
WHAT CUSTOMERS ARE SAYING:
5★★★★★ - "It's so easy to walk right in to the bath now that I have the new walk in tub. And the seat is safe and secure. Just what I needed."
Craig
2015-04-15
---
5★★★★★ - "I haven't slept this well in years. I feel so refreshed after taking a short bath in my Independent Home Walk-In Tub."
Roger
2015-04-15
---
5★★★★★ - "Independent Home installed a Deluxe walk-in tub in our second story bathroom yetersday. My wife and I both loved our first soak and the Hydrotherapy Jets are so helpful for my aches and pains."
Christina
2015-04-15
---
Call for FREE Handicap Accessible Bathtubs & Showers Quote
---
Handicap Accessible Bathtubs & Showers available in the following Littleton, CO zip codes:
80120
80121
80122
80123
80124
80125
80126
80127
80128
80129
80130
80160
80161
80162
80163
80165
80166